Vaccination and Travel Information for Bangladesh
Information current as at:
February 2009 by The D2 Medical Centre No 1 fitzwilliam Street Upper Dublin 2 ph 6314500. The experts in travel vaccines Dublin 2.
| | |
| --- | --- |
| Climate: | Very hot, tropical climate with a monsoon season from April to October when temperatures are highest; rainfall averages over 2540 mm. The cool season is between November and March. |
| Capital City: | Dhaka |
| Altitude: | 10 Metres above sea level |
| Main Cities: | Chittagong, Khulna |
| Population: | 129,194,224 |
| Land Area (sq km): | 147,570 |
| Currency: | 1 Bangladesh taka = 100 poisha |
| Languages: | Bangla (official), English |
| Religions: | Muslim 88.3%, Hindu 10.5%, other 1.2% |
| Economy: | Garments, jute and jute goods, leather, frozen fish and seafood |
The D2 Medical advises all travellers to be 'up-to-date' for:
CHOLERA
Immunisation is neither required nor recommended.
DIPHTHERIA
We recommend the initial childhood series of vaccinations in the first five years of life, with booster doses at ages 11 years, 45 years, and 65 years. Travellers are recommended to have the vaccine 10 yearly esp. if travelling to developing countries, or where there may be a risk of contracting the disease.
HEPATITIS 'A'
Immunisation is strongly recommended but not compulsory.
HEPATITIS 'B'
Immunisation is recommended for travellers.Transmission of Hepatitis B is through sex or contact with contaminated blood, needles and syringes.
JAP.B.ENCEPHALITIS
Immunisation is recommended for travellers who will be in the rural or remote areas for 1 month or more at a time.
POLIO
Adults who are travelling to areas where poliomyelitis cases are occurring, or where the contracting the disease is possible, and who have received a primary series with either IPV or OPV should receive another dose of IPV before departure. For adults, available data do not indicate the need for more than a single lifetime booster dose with IPV.
RABIES
Immunisation is definitely recommended for travellers who will be living in rural areas for 1 month or more.
TUBERCULOSIS (TB)
Immunisation is not compulsory, and is not recommended for adults.Children should be immunised at any age.A skin test is available if immune status is in doubt.
TETANUS
We recommend the initial childhood series of vaccinations in the first five years of life, with booster doses at ages 11 years, 45 years, and 65 years. Travellers are recommended to have the vaccine 10 yearly esp. if travelling to developing countries, or where there may be a risk of contracting the disease.
TYPHOID FEVER
Immunisation is recommended.
YELLOW FEVER
Any person (including infants) who arrives by air or sea without a certificate is detained in isolation for a period of up to 6 days if arriving within 6 days of departure from an infected area or having been in transit in such an area, or having come by an aircraft that has been in an infected area and has not been disinsected in accordance with the procedure and formulation laid down in Schedule VI of the Bangladesh Aircraft (Public Health) Rules 1977 (First Amendment) or those recommended by WHO.Immunisation is not required for travel to this country alone.

The following countries and areas are regarded as infected:

Africa: Angola, Benin, Burkina Faso, Burundi, Cameroon, Central African Republic, Chad, Congo, Côte d'Ivoire, Democratic Republic of the Congo, Equatorial Guinea, Ethiopia, Gabon, Gambia, Ghana, Guinea, Guinea-Bissau, Kenya, Liberia, Malawi, Mali, Mauritania, Niger, Nigeria, Rwanda, Sao Tome and Principe, Senegal, Sierra Leone, Somalia, Sudan (south of 15°N), Togo, Uganda, United Republic of Tanzania, Zambia.
America: Belize, Bolivia, Brazil, Colombia, Costa Rica, Ecuador, French Guiana, Guatemala, Guyana, Honduras, Nicaragua, Panama, Peru, Suriname, Trinidad and Tobago, Venezuela.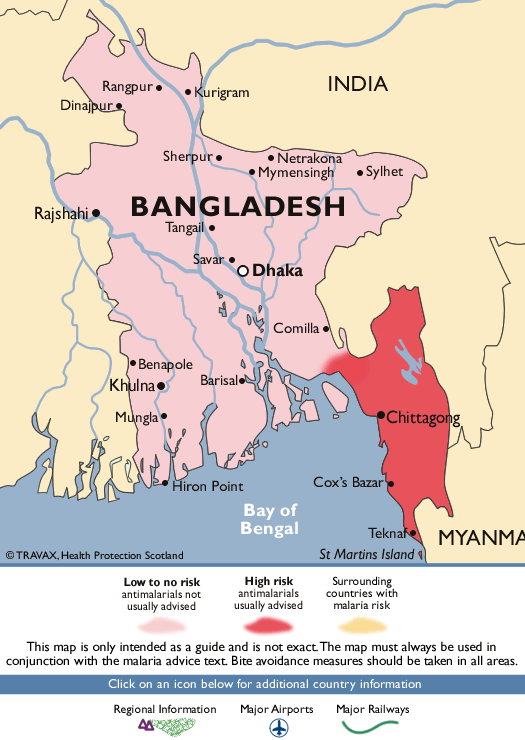 Malarial Prevention is highly recommended. Malaria is present all year round throughout the whole country, excluding Dhaka City. Elevated risk occurs in the forested areas and foothills of the southeast and east bordering India and Burma. Falciparum malaria accounts for 50%–75% of malaria cases in this country, vivax the remainder. Chloroquine resistance reported in the south-east. Resistance to sulfadoxine–pyrimethamine also reported.


Warnings:
All travellers are advised to ask their health professional about the side-effects of the various medications, as problems may occur with balance/fine skills, heart disease, blood pressure pills, epilepsy, mental illness and pregnancy.
Not all medications are suitable for everybody, neither are any of the recommended medications 100%effective. Other mosquito preventative measures are recommended in association with any recommended medication (see below).
Self Treatment Regimes:
Travellers who develop fever should seek immediate medical help. If Malaria is confirmed then self-treatment regimes are available. Travellers may wish to discuss these with their health professional BEFORE they travel. They are best used in association with a firm diagnosis of malaria (which may be done either by a laboratory of with the aid of a 'rapid diagnostic kit').
GENERAL
Medical facilities are poor. Routine tests and X-rays are unreliable. Travellers must have suitable insurance and be prepared to travel outside Bangladesh for treatment. Medical evacuations to Bangkok or Singapore are often needed for serious conditions. It is usually very limited or unavailable in rural areas. Medical facilities are basic in urban areas and poor to non-existent in rural areas. Some medicines are in short supply or locally unobtainable. Malaria and dengue fever are found in Bangladesh. The former is usually restricted to specific rural areas but the latter is common in towns, including Dhaka. Visitors should seek medical advice before travelling and be aware that some over-the-counter prophylactics offer no protection.
HEALTH, ACCIDENTS AND INSURANCE
Accidents and injuries are the leading cause of death among travellers under the age of 55. Most are caused by motor vehicle and motorcycle crashes; and to a lesser degree, drowning, aircraft crashes, murders, and burns.

Heart attacks cause most fatalities in older travellers, but infections cause only 1% of fatalities in overseas travellers. Generally, infections are the most common cause of travel-related illness.

Travellers are advised to obtain, before departure, travel health insurance with specific overseas coverage. The policy should include a medical evacuation benefit. Check for any exclusions that are part of the policy, and keep in mind that many insurance policies have terrorism exclusion clauses. The D2 Medical recommends that the policy also provide 24-hour access to an assistance centre that can help arrange and monitor delivery of medical care.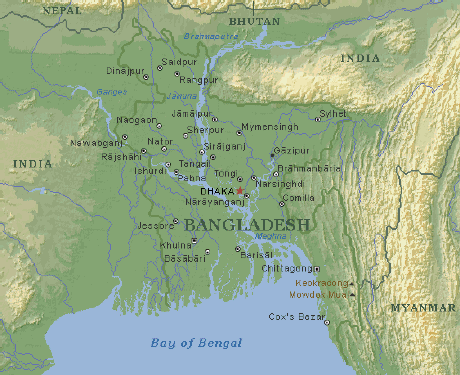 DR JOHN J RYAN MEDICAL DIRECTOR
You can view a list of all countries by clicking here
Vaccine info for over 180 countries
Going Abroad?
Make sure to book an appointment with us at least 4 weeks before you travel.
Contact clinic: 01-6314500
Request an appointment
Check out our sister site Dublin Health Screening