Vaccination and Travel Information for China
Information current as at:
February 2009 by The D2 Medical centre No 1 Fitzwilliam Street Upper dublin 2 Ph 6314500. The experts in travel vaccines Dublin 2.
Climate:
China has a climate dominated by monsoonal winds. It features clear temperature differences in winter and summer. In winter, northerly winds coming from high latitude areas are cold and dry, and in summer, southerly winds from sea areas at lower longitudes are warm and moist. In addition, climates differ from region to region because of the country's extensive territory and complex topography.

In the south-eastern part south of the Nanling Mountains, rains are plenty and the temperature is high all year round. In the Yangtze and Huaihe river valleys in the central part, there are four distinctive seasons.

In northeast China, summer is short but there is much sunshine, while winter is long and cold. Precipitation is limited in northwest China where it is cold in winter and hot in summer.

In southwest China of low latitudes, the land is elevated high, and it features vertical seasonal zones with temperatures differing from valleys to mountain peaks.

Capital City:
Beijing
Altitude:
60 metres
Main Cities:
Shanghai, Shenyang, Tianjin, Xian
Population:
1,261,832,482
Land Area (sq km):
9,596,961
Currency:
1 yuan = 10 jiao = 100 fen
Languages:
Standard Chinese or Mandarin (Putonghua, based on the Beijing dialect), Yue (Cantonese), Wu (Shanghaiese), Minbei (Fuzhou), Minnan (Hokkien-Taiwanese), Xiang, Gan, Hakka dialects, minority languages (see Ethnic groups entry)
Religions:
Daoist (Taoist), Buddhist, Muslim 2%-3%, Christian 1% (est.)
Economy:
Rice, wheat, potatoes, peanuts, tea, millet, barley, cotton, oilseed, pork, fish, machinery and equipment, clothing, footwear, toys and sporting goods, mineral fuels, chemicals.
The D2 Medical advises all travellers to be 'up-to-date' for:
CHOLERA
Immunisation is neither required nor routinely recommended.
DIPHTHERIA
We recommend the initial childhood series of vaccinations in the first five years of life, with booster doses at ages 11 years, 45 years, and 65 years. Travellers are recommended to have the vaccine 10 yearly esp. if travelling to developing countries, or where there may be a risk of contracting the disease.


HEPATITIS 'A'
Immunisation is strongly recommended but not compulsory.



HEPATITIS 'B'
Immunisation is recommended for travellers who will be in the area for 1 month or more.
Transmission of Hepatitis B is through sex or contact with contaminated blood, needles and syringes.


JAP.B.ENCEPHALITIS
Immunisation is recommended for travellers who will be living in rural areas, particularly in southern and eastern regions, for 1 month or more.


POLIO
Adults who are travelling to areas where poliomyelitis cases are occurring, or where the contracting the disease is possible, and who have received a primary series with either IPV or OPV should receive another dose of IPV before departure. For adults, available data do not indicate the need for more than a single lifetime booster dose with IPV.




RABIES
Immunisation is recommended for travellers who will be living in rural areas for 1 month or more.


TUBERCULOSIS (TB)
Immunisation is not compulsory, and is not routinely recommended for adults.
Children should be immunised at any age.
A skin test is available if immune status is in doubt, and this is recommended pre- and post- travel for those going to 'at risk' regions.



TETANUS
We recommend the initial childhood series of vaccinations in the first five years of life, with booster doses at ages 11 years, 45 years, and 65 years. Travellers are recommended to have the vaccine 10 yearly esp. if travelling to developing countries, or where there may be a risk of contracting the disease.


TYPHOID FEVER
Immunisation is recommended for travellers who will be living in rural areas for 1 month or more.


YELLOW FEVER
A Yellow Fever vaccination certificate is required from travellers coming from infected areas, otherwise Immunisation is not required.
Malaria Risk, including the P. falciparum form, occurs in Hainan and Yunnan. Up to 90% of malaria in China is found in the Yunnan province and Hainan island. Multidrug-resistant P. falciparum has been reported. Risk of P. vivax exists in Hainan, Fuijan, Guangdong, Guangxi, Guizhou, Sichuan, Xizang (in the Zangbo River Valley in the extreme south-east only), and Yunnan. Anhui, Hubei, Hunan, Jiangsu, Jiangxi, Shandong, Shanghai, and Zhejiang. In provinces with risk, transmission only occurs during warm weather. Where there is transmission, it occurs below 1,500 meters from July to November north of latitude 33°N, from May to December between 33°N and 25°N, and throughout the year south of 25°N. Travellers to cities and popular tourist areas, including Yangtze River cruises, are not at risk, and do not need to take antimalarial drugs.

Where transmission exists, it occurs below 1500 metres: from July to November north of latitude 33N, from May to December between 33N and 25N, and throughout the year south of 25N. There is no malaria risk in urban areas or in densely populated areas. In general, tourists do not need to take malaria prophylaxis unless staying in remote areas.


Warnings:
All travellers are advised to ask their health professional about the side-effects of the various medications, as problems may occur with balance/fine skills, heart disease, blood pressure pills, epilepsy, mental illness and pregnancy.
Not all medications are suitable for everybody, neither are any of the recommended medications 100%effective. Other mosquito preventative measures are recommended in association with any recommended medication (see below).
Self Treatment Regimes:
Travellers who develop fever should seek immediate medical help. If Malaria is confirmed then self-treatment regimes are available. Travellers may wish to discuss these with their health professional BEFORE they travel. They are best used in association with a firm diagnosis of malaria (which may be done either by a laboratory of with the aid of a 'rapid diagnostic kit').
General Advice on Mosquito Prevention.
Malaria is transmitted by mosquito bite, so recommend all travellers to the country to:
cover exposed skin after dusk when they are at most risk for getting bitten
use insect repellent with DEET in it.
return before dusk from country areas where malarial mosquitoes are the most active
sleep in screened room or use a bed net, remembering to tuck in the edges & spray inside.
sleep in air conditioned rooms or rooms with fans. Vapour pads and smoke coils also help. Insect buzzers are useless.
GENERAL
Western style medical facilities with international staffs are available in Beijing, Shanghai, Guangzhou and a few other large cities. Many other hospitals in major Chinese cities have so-called VIP wards (gaogan bingfang). These feature reasonably up-to-date medical technology and physicians who are both knowledgeable and skilled. Most VIP wards also provide medical services to foreigners and have English-speaking doctors and nurses. Travellers may be asked to post a deposit prior to admission to cover the expected cost of treatment. Many hospitals in major cities may accept credit cards for payment. Physicians and may refuse to supply travellers with complete copies of their Chinese hospital medical records, including investigative procedures.

Ambulances do not carry sophisticated medical equipment, and ambulance personnel generally have little or no medical training. Therefore, injured or seriously ill travellers should possibly consider taking any available vehicles to the nearest major hospital. In rural areas, only rudimentary medical facilities are generally available. Medical personnel in rural areas are often poorly trained, have little medical equipment or availability to medications.

For medical emergencies anywhere in mainland China, travellers should phone their travel health insurance number to determine the best course of medical action. The Australian firm, GlobalDoctor, Ltd., has opened clinics staffed by English-speaking doctors within the VIP wards of government-run hospitals in Chengdu, Nanjing, and Beijing.


HEALTH, ACCIDENTS AND INSURANCE
Accidents and injuries are the leading cause of death among travellers under the age of 55. Most are caused by motor vehicle and motorcycle crashes; and to a lesser degree, drowning, aircraft crashes, murders, and burns.

Heart attacks cause most fatalities in older travellers, but infections cause only 1% of fatalities in overseas travellers. Generally, infections are the most common cause of travel-related illness.
Travellers are advised to obtain, before departure, travel health insurance with specific overseas coverage. The policy should include a medical evacuation benefit. Check for any exclusions that are part of the policy, and keep in mind that many insurance policies have terrorism exclusion clauses. The D2 Medical recommends that the policy also provide 24-hour access to an assistance centre that can help arrange and monitor delivery of medical care, and determine if air ambulance services are required.

Maleria Map Of China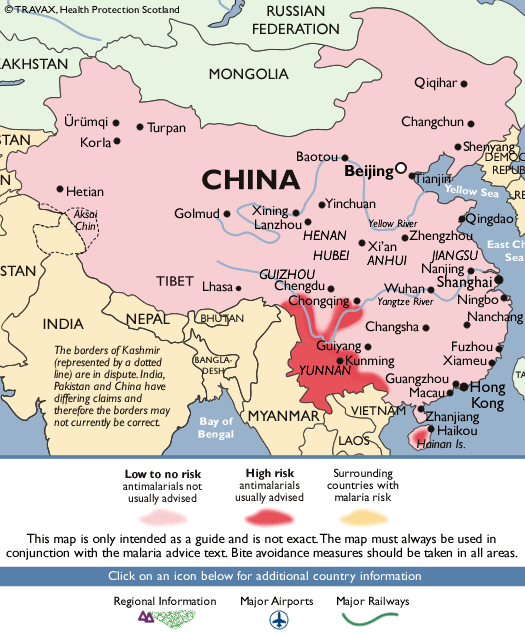 DR JOHN J RYAN MEDICAL DIRECTOR
news aug 08
Chinese gymnast's credentials probed
By Simon Denyer
BEIJING (Reuters) - The International Olympic Committee has ordered an investigation into allegations Chinese authorities falsified the age of a double gold medal winning gymnast because she was too young to compete.
There were thrills and spills on the BMX track on Friday as the Games' youngest competition ended with golds for France and Latvia, and sweat and tears after a gruelling 50km race walk in relentless sun that ended in gold for Italy.
The focus on China's determination to produce a Games its people can be proud of had been eclipsed by sporting triumphs like the eight golds of swimmer Michael Phelps and the double sprint win of exuberant Jamaican Usain Bolt.
Now the concerns over Chinese medal hunger have resurfaced.
China's He Kexin, who won team gold in artistic gymnastics and an individual title on the asymmetric bars, was registered as being born on January 1, 1992, meeting the rule that gymnasts must at least turn 16 in the year of the Olympics.
There have been persistent media allegations He competed in earlier tournaments under a later birth date. On Thursday an American computer expert said he had uncovered Chinese state documents that proved she was 14 and not 16.
The caption on a photograph published by Chinese state news agency Xinhua last year referred to "13-year-old He Kexin", while China Daily reported in May that she was 14.
An IOC official said the gymnastics federation would look into "discrepancies" over He's age but Games organisers were at pains to stress she had already been cleared to compete
You can view a list of all countries by clicking here
Vaccine info for over 180 countries
Going Abroad?
Make sure to book an appointment with us at least 4 weeks before you travel.
Contact clinic: 01-6314500
Request an appointment
Check out our sister site Dublin Health Screening