Vaccination and Travel Information for Nicaragua
Information current as at:
February 2009 by The D2 Medical centre No1 Fitzwilliam Street Upper Dublin 2 ph 6314500. The experts in travel vaccines Dublin 2.
Climate:
Tropical climate for most of the country. The dry season is from December to May, and the rainy season is from June to November. The northern mountain regions have a much cooler climate.

The average temperatures remain fairly constant all year round and average 34°C in July and 26°C in February.

Capital City:
Managua
Altitude:
70 metres above sea level
Main Cities:
Chinandega, Leon
Population:
4,812,569
Land Area (sq km):
129,494
Currency:
1 gold cordoba (C$) = 100 centavos
Languages:
Spanish, note: English / indigenous languages on Atlantic coast
Religions:
Roman Catholic 85%, Protestant
Economy:
coffee, shrimp/ lobster, cotton, beef, sugar, bananas, gold

The D2 Medical advises all travellers to be 'up-to-date' for:


CHOLERA
Immunisation is neither required nor recommended.
DIPHTHERIA
We recommend the initial childhood series of vaccinations in the first five years of life, with booster doses at ages 11 years, 45 years, and 65 years. Travellers are recommended to have the vaccine 10 yearly esp. if travelling to developing countries, or where there may be a risk of contracting the disease.


HEPATITIS 'A'
Immunisation is strongly recommended but not compulsory.



HEPATITIS 'B'
Immunisation is recommended for travellers who will be in the area for 1 month or more.
Transmission of Hepatitis B is through sex or contact with contaminated blood, needles and syringes.



POLIO
Adults who are travelling to areas where poliomyelitis cases are occurring, or where the contracting the disease is possible, and who have received a primary series with either IPV or OPV should receive another dose of IPV before departure. For adults, available data do not indicate the need for more than a single lifetime booster dose with IPV.

.

RABIES
Immunisation is recommended for travellers who will be staying in rural areas for 1 month or more.



TUBERCULOSIS (TB)
Immunisation is not compulsory, and is not routinely recommended for adults.
Children should be immunised at any age.
A skin test is available if immune status is in doubt, and this is recommended pre- and post- travel for those going to 'at risk' regions.


TETANUS
We recommend the initial childhood series of vaccinations in the first five years of life, with booster doses at ages 11 years, 45 years, and 65 years. Travellers are recommended to have the vaccine 10 yearly esp. if travelling to developing countries, or where there may be a risk of contracting the disease.


TYPHOID FEVER
Immunisation is recommended, particular for all long term travellers to the region.


YELLOW FEVER
A yellow fever vaccination certificate is required from travellers over 1 year of age coming from infected areas.


Risk is present countrywide below 1,000 meters elevation, except for the centers of major urban areas such as Managua and Leon; risk may be elevated in the northwestern departments of Leon and Chinandega Malaria risk, predominantly due to P. vivax, is high throughout the year in 119 municipalities, with the highest risk in Chinandega, Jinotega, Nueva Segovía, RAAN, RAAS and Rio San Juan. In the other 26 municipalities, in the departments of Carazo, Madriz and Masaya, transmission risk is low or negligible. No chloroquine-resistant P. falciparum reported.

There are five common medications for malaria prevention available in Ireland. They are: chloroquine, doxycycline, malarone, mefloquine, paludrine. To determine the appropriate antimalarial, it is advised that the traveller discuss this with a Worldwise Travellers Health Specialist or other Travel Health Professional. None of the medicines are 100% effective against the disease at all times, and each has its own side effects. These need to be discussed with the intending traveller.
General Advice on Mosquito Prevention.
Malaria is transmitted by mosquito bite, so recommend all travellers to the country to:
cover exposed skin after dusk when they are at most risk for getting bitten
use insect repellent with DEET in it.
return before dusk from country areas where malarial mosquitoes are the most active
sleep in screened room or use a bed net, remembering to tuck in the edges & spray inside.
sleep in air conditioned rooms or rooms with fans. Vapour pads and smoke coils also help. Insect buzzers are useless.
Malaria map of Nicaragua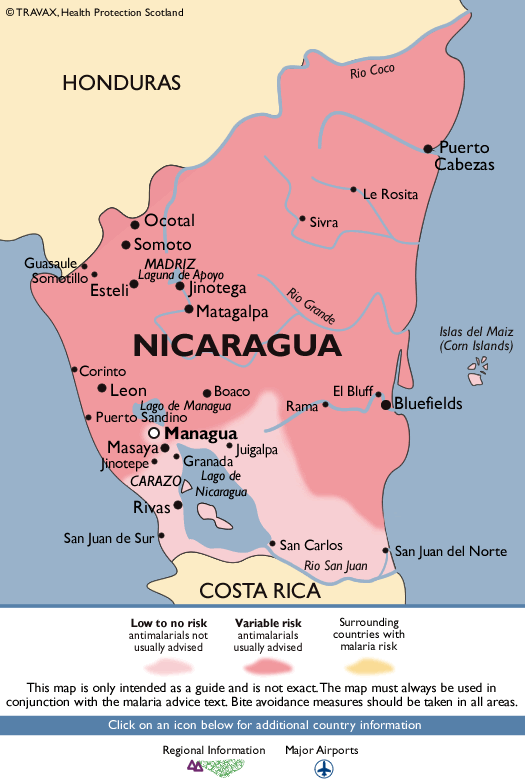 GENERAL
Basic medical services are available in Managua and in many of the smaller towns and villages. However, treatment for many serious types of medical problems is either unavailable or available only in Managua. Certain types of medical equipment, medications and treatments are unavailable in Nicaragua. While medical professionals are generally competent, many health facilities face shortages of medical supplies and bed space. Many medications are unavailable so travellers to Nicaragua should bring with them any prescribed medicine in its original container and in amounts commensurate with personal use. A copy of the prescription and a letter from the prescribing doctor explaining the need for prescription drugs facilitates their entry into the country. There is a severe shortage of basic medical supplies, including disposable needles, anesthetics, and antibiotics.
HEALTH, ACCIDENTS AND INSURANCE
Accidents and injuries are the leading cause of death among travellers under the age of 55. Most are caused by motor vehicle and motorcycle crashes; and to a lesser degree, drowning, aircraft crashes, murders, and burns.

Heart attacks cause most fatalities in older travellers, but infections cause only 1% of fatalities in overseas travellers. Generally, infections are the most common cause of travel-related illness.

Travellers are advised to obtain, before departure, travel health insurance with specific overseas coverage. The policy should include a medical evacuation benefit. Check for any exclusions that are part of the policy, and keep in mind that many insurance policies have terrorism exclusion clauses. The D2 medical recommends that the policy also provide 24-hour access to an assistance centre that can help arrange and monitor delivery of medical care, and determine if air ambulance services are required.
Yellow Fever Map

DR JOHN J RYAN MEDICAL DIRECTOR
You can view a list of all countries by clicking here
Vaccine info for over 180 countries
Going Abroad?
Make sure to book an appointment with us at least 4 weeks before you travel.
Contact clinic: 01-6314500
Request an appointment
Check out our sister site Dublin Health Screening