Vaccination and Travel Information for Uzbekistan
Information current as at:
February 2009 by the D2 medical centre no 1 Fitzwilliam street upper Dublin 2 ph 6314500. The experts in travel vaccines Dublin 2.
| | |
| --- | --- |
| Climate: | Uzbekistan has an extreme continental climate. It is generally warmest in the south and coldest in the north. Temperatures in December average -8°C in the north and 0°C in the south. However, extreme fluctuations can take temperatures as low as -35°C . During the summer months, temperatures can climb to 45°C and above. Humidity is low. The best time to visit is during the spring and autumn. Temperatures in Tashkent are 25-35 °Celsius in summer and 0- minus 8° Celsius in winter. |
| Capital City: | Tashkent |
| Altitude: | 460 metres above sea level |
| Main Cities: | Buxoro, Jizzax, Namangan, Nukus, Qarshi |
| Population: | 25,981,647 (July 2003 est.) |
| Land Area (sq km): | 447,400 sq km |
| Currency: | Uzbekistani sum |
| Languages: | Uzbek 74.3%, Russian 14.2%, Tajik 4.4%, other 7.1% |
| Religions: | Muslim 88% (mostly Sunnis), Eastern Orthodox 9%, other 3% |
| Economy: | Cotton 41.5%, gold 9.6%, energy products 9.6%, ferrous metals, textiles, food products, automobiles (1998 est.) |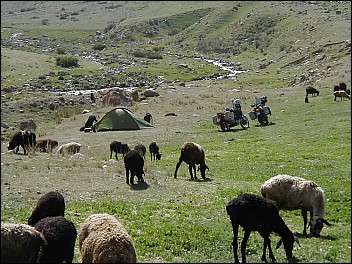 The D2 Medical Centre advises all travellers to be 'up-to-date' for:
CHOLERA
Immunisation is neither required nor recommended.
DIPHTHERIA
We recommend the initial childhood series of vaccinations in the first five years of life, with booster doses at ages 11 years, 45 years, and 65 years. Travellers are recommended to have the vaccine 10 yearly esp. if travelling to developing countries, or where there may be a risk of contracting the disease.


HEPATITIS 'A'
Immunisation is strongly recommended but not compulsory.


HEPATITIS 'B'
Immunisation is strongly recommended for travellers who will be in the area for 1 month or more.
Transmission of Hepatitis B is through sex or contact with contaminated blood, needles and syringes.


POLIO
Adults who are travelling to areas where poliomyelitis cases are occurring, or where the contracting the disease is possible, and who have received a primary series with either IPV or OPV should receive another dose of IPV before departure. For adults, available data do not indicate the need for more than a single lifetime booster dose with IPV.



RABIES
Immunisation is recommended for travellers who will be staying in rural areas for 1 month or more.



TUBERCULOSIS (TB)
Immunisation is not compulsory, and is not routinely recommended for adults.
Children should be immunised at any age.
A skin test is available if immune status is in doubt, and this is recommended pre- and post- travel for those going to 'at risk' regions.


TETANUS
We recommend the initial childhood series of vaccinations in the first five years of life, with booster doses at ages 11 years, 45 years, and 65 years. Travellers are recommended to have the vaccine 10 yearly esp. if travelling to developing countries, or where there may be a risk of contracting the disease.


TYPHOID FEVER
Immunisation is recommended for travellers who will be living in rural areas for 1 month or more.


YELLOW FEVER
No vaccination requirements for any international traveller.
Sporadic autochthonous cases of P. vivax malaria are reported from Surkhanda-rinskaya Region (Uzunskiy, Sariassiskiy and Shurchinskiy districts).
Prophylaxis is not routinely recommended.

GENERAL
Emergency health care is available free of charge for visitors although, as in most parts of the former Soviet Union, medical care in Uzbekistan is inadequate and there are extreme financial problems. Doctors and hospitals often expect cash payment for health services. There is a severe shortage of basic medical supplies, including disposable needles, anaesthetics, antibiotics and vaccines. Travellers are therefore advised to take a well-equipped first-aid kit with them containing basic medicines and any prescriptions that they may need. For minor difficulties, visitors are advised to ask the management at their hotel for help. In case of emergency, travellers should get a referral from either the Tashkent International Medical Clinic (TIMC) at 6 Minglar Street, Tashkent, telephone: 120-6092. or from the appropriate Embassy, since foreigners are strongly advised not to approach local health care facilities without somebody who knows local conditions and the language. TIMC provides basic family practice outpatient services and emergency services on a fee-for-service basis.

Elderly travellers and those with pre-existing health problems may be at risk due to inadequate medical facilities. Most resident ex-pats travel to Western Europe for serious medical treatment. Such travel can be extremely expensive if undertaken under emergency conditions. Travellers requiring prescription medications or specific brand-name medicines should bring sufficient supplies of medications and not rely on local availability. Medicines and basic medical supplies are largely obtainable in privately owned pharmacies.

HEALTH, ACCIDENTS AND INSURANCE
Accidents and injuries are the leading cause of death among travellers under the age of 55. Most are caused by motor vehicle and motorcycle crashes; and to a lesser degree, drowning, aircraft crashes, murders, and burns.

Heart attacks cause most fatalities in older travellers, but infections cause only 1% of fatalities in overseas travellers. Generally, infections are the most common cause of travel-related illness.

Travellers are advised to obtain, before departure, travel health insurance with specific overseas coverage. The policy should include a medical evacuation benefit. Check for any exclusions that are part of the policy, and keep in mind that many insurance policies have terrorism exclusion clauses. The D2 medical centre recommends that the policy also provide 24-hour access to an assistance centre that can help arrange and monitor delivery of medical care, and determine if air ambulance services are required.
DR JOHN J RYAN MEDICAL DIRECTOR
Current news in uzbekistan.
Strong earthquake jolts Uzbekistan's capital
ALMATY (Reuters) - A strong earthquake rattled the Uzbek capital Tashkent on Friday, rocking buildings and sending people running outdoors in fear, witnesses and the emergency ministry said.
There were no immediate reports of casualties.
The quake hit at 1:26 p.m. (9:26 a.m. British time) just outside Tashkent, a city of two million, and registered 6.0 on a 12-level scale measuring earthquake intensity. No Richter scale figures were available.
"It nearly threw me off my feet," a witness told Reuters. He said he saw bricks falling from the walls of buildings and people running through the streets in confusion.
An emergency ministry spokesman said there were no reports of casualties or destruction.
The witness in Tashkent said he could see no signs of damage or fire, adding that people were returning to their homes after the initial panic abated.
Once an oasis town on the ancient Silk Road trading route connecting Europe with China, Tashkent is located in a seismically active part of Central Asia.
In 1966, many of Tashkent's ancient mosques and buildings were flattened by a 7.5 earthquake when hundreds of thousands of people were left homeless. Another quake hit in 1980, also in the village of Nazarbek but caused no serious destruction.
You can view a list of all countries by clicking here
Vaccine info for over 180 countries
Going Abroad?
Make sure to book an appointment with us at least 4 weeks before you travel.
Contact clinic: 01-6314500
Request an appointment
Check out our sister site Dublin Health Screening